HP AND BUD LIGHT OFFER A UNIQUE BEER
Display & Events - Offset printing & Screen printing - Packaging & Labeling - Personalisation and Direct on garment printing - 2015/11/04
HP, an exhibitor at C!Print 2016, has just made it possible to initiate the first ever custom-package campaign with the famous American beer brand Bud Light: to produce 200,000 unique can designs! American consumers were introduced to this limited edition packaging at the "Mad Decent Block Party" music festival. Customer feedback has been extremely positive, as Valérie Toothman, vice-president of innovation at Anheuser-Busch, explains: "Consumer reactions are proving that custom graphics are a striking and relevant way to elevate a consumer's experience with the Bud Light brand".
For this campaign, an HP Indigo WS6800 digital press was used, coupled with HP SmartStream Mosaic software. The brand took 31 designs and transformed them into 31 million possible graphics, ultimately creating just 200,000 unique can designs.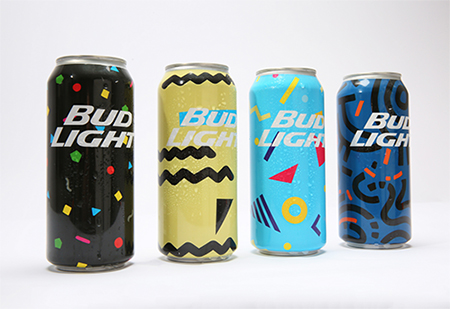 HP SmartStream Mosaic enables the automatic creation of millions of designs based on different patterns, simplifying the mass customisation process to create exciting campaigns.
Customised packaging is clearly one of the major trends of 2015, as Doris Brown-McNally, worldwide brands business development manager at HP, confirms: "Customisation on a global scale is the next frontier for brands. HP's digital printing technology offers the ability to quickly create and produce millions of unique designs and Bud Light is the latest brand to leverage our technology to craft a custom and shareable experience."
Which brand will be next?