C!PRINT MADRID: A FORETASTE OF LYON 2016…
Display & Events - Retail & Commercial layout - Wide format textile printing - 2015/10/21
After three years of significant development, the C!Print trade show in Lyon is set to evolve further in 2016 with the focus very much on those aspects that have set the event apart since it was first held: creativity and innovation. In anticipation of the unveiling of the latest innovations at next year's show, the tone has already been set at C!Print Madrid, held between 6 and 8 October 2015, where 656 inaugurated its new Plug&Play concept.
Building on its positioning perfectly in tune with the evolving needs of the printing market and widely endorsed by major equipment and media manufacturers, the C!Print trade show was taken to Spain last year. It was modelled on the Lyon trade show organised by 656 Editions: an event that brings together the entire printing and visual communications community, with a significant educational content, giving pride of place to applications and creativity beyond pure techniques.
Buoyed by the success of the first event, the second C!Print Madrid trade show was a much bigger affair, with 15,000 m2 of exhibition space (compared with 8,000 in 2014) and exhibitor numbers increasing from 140 to 200.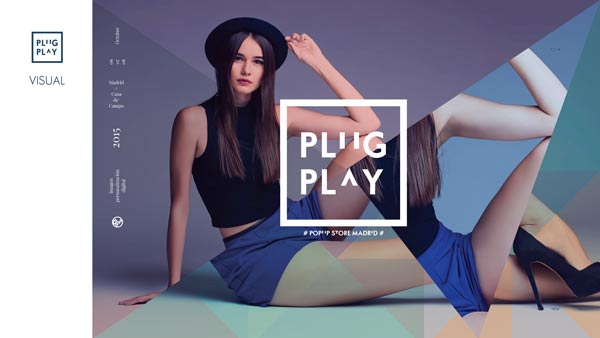 The Spanish version of the trade show was an opportunity for organisers to hone their Creative workshop Plug&Play, offering a new staging design. Contributions from renowned designers and printers provided participants with even more detailed information concerning innovation and new developments. The Barcelona-based design agency Egue y Seta was given carte blanche alongside C!Print's long-standing design partner, Regular Switch, to present more than 100 innovative applications.
A committee of experts worked with partners to coordinate the "Brand Manager" proposal, implemented by the interior designer to adorn three themed spaces:
– A Pop-up store. A major trend in the commercial space sector, the pop-up store is an experimentation space for brands in which digital printing, flexible and fast to implement, offers innovative solutions.
– A Bar. Whether a commercial or public space, or an events-hosting zone, the bar is where attractive meets functional. The sheer diversity of materials, in terms of textures, colours and functionalities, meets the needs of fitters, and customisation (beer mats, glass, labels, covering, etc.) transforms spaces into genuine universes with a clear identity.
– A Business meeting room. Usages evolve and information and signage solutions once again lie at the heart of new design needs. Integral to a building's visual identity, signage is becoming decorative while increasingly incorporating digital technology.
The Lyon trade show will thus be using this experience to further develop the Plug&Play concept, with the increased participation of leading printing companies who will be exhibiting in the Service Providers Platform space.
The Lyon trade show will be held from 26 to 28 January 2016.